CE 100 Easel
This is our flagship model and the very first one we built over 30 years ago. Patterned after an easel once used by Sir Lawrence Alma-Tadema and owned by the Metropolitan Museum of Art, its basic form has remained the same but we have refined its many features over the years. The classic A-Frame design not only enables certain valuable functions, but also makes it incredibly stable. As you peruse the various details and specifications listed below, you will come to see why this model has been the preferred choice by the foremost conservation studios in this country and beyond.
CE 100 Easel Specifications
Wood Type:
Signature wood – American Black Walnut
Other species are available on request.
Finish: Hand rubbed Tung oil
Dimensions:
Base 30" (76cm) wide x 30" (6) deep
Height in closed position 90" (229cm)
Overall height with frames fully extended 168" (427cm)
Maximum painting height capacity 110" (279cm)
Minimum painting height capacity in main clamping frame
55 ¼" (140cm)
Maximum painting height capacity when using auxiliary
stay 49" (124cm)
Typical tray depth 3" (8cm) *can specify other depths
Construction Features:
Mortise & tenon joinery throughout for all main frames.
Tongue & groove tracks are precisely machined & waxed for smooth operation.
Mechanical:
Height adjustment & tilt feature are hand cranked
Painting clamping frame is adjusted via rope & pulley
Sturdy casters lock the wheel & the swivel.
Click here to download a PDF with detailed specifications.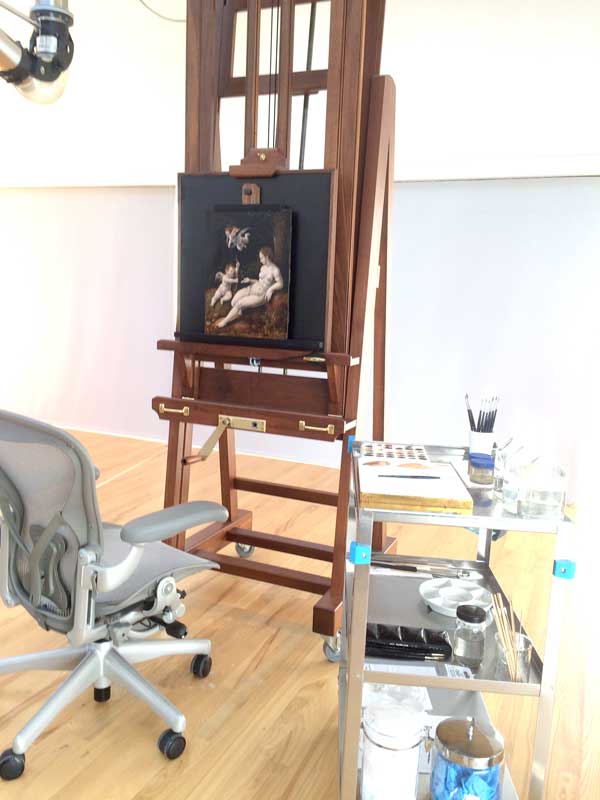 CE 100 Floor Model Easel at the Dallas Museum of Art. Micro easel attchment pictured.