Conservation Accessories
Over the years during the course of designing & building easels we have been called upon to make accessories to augment our typical offerings. Some of these items have been one of a kind to meet a special need, but at times there has been enough call to add an item to our repertoire.
Photo: Dallas Museum of Art
Micro-Easel Accessory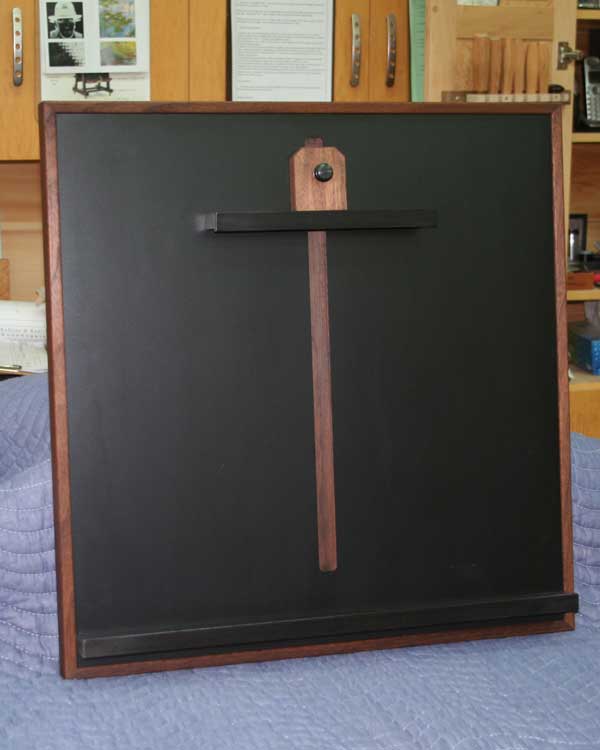 Designed to be clamped onto one of our floor model easels via an auxiliary stay, it's small stature makes it advantageous to work on very small or delicate paintings.
We collaborated with Mark Leonard, formerly with the Dallas Museum of Art, in perfecting his original design.  Made from black laminate and solid Walnut, it features a small adjustable stay that slides in a dovetailed track.
Dimensions:
22.5" wide x 23.5" high x 1.375 deep
Tray capacity – 1.25" deep
Painting height capacity –  16.75"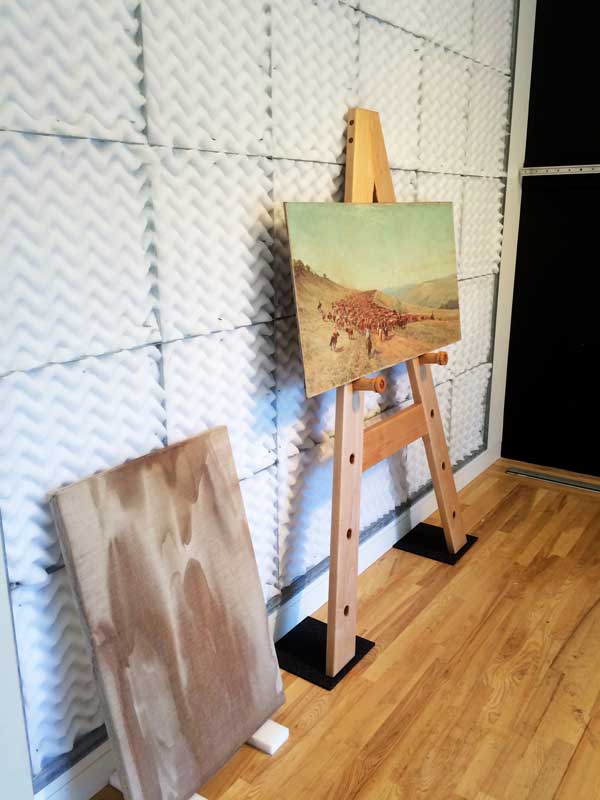 Designed to be portable and moved into spray booth for applying varnish. The simple peg system makes it easy to clean off over-spray build up.
This light weight A-Frame easel was designed by Helen Houp, a private conservator from Dallas Texas. The problem with spraying varnish is that the over-spray accumulates on all surrounding surfaces. Any kind of easel with sliding frames quickly gets gummed up and will not work properly. This simple, yet elegant solution to that problem utilizes large pegs which fit into slightly oversized holes. As the pegs gets layered with varnish it is a simple job to sand off the peg surface with coarse sandpaper and you are quickly back in business. The paintings can be set right on the pegs or on boards of various lengths according to the height at which the painting is staged.
Dimensions:
47" wide x 75" high x 1.5" deep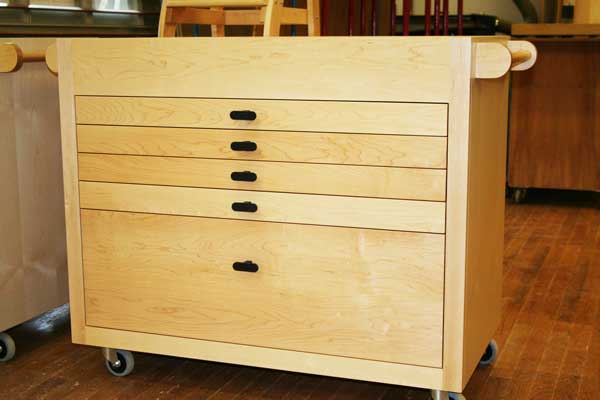 Designed to have your full range of paints and small tools at hand, these can be built in many sizes and with various drawer configurations.
Drawers feature full extensions slides in various heights. The top of the trolley is set down in so items you are working with do not roll off the side. The casters are 3" swivel and can be ordered with a locking feature.
Typical Dimensions:
22" wide x 22" deep x 33" high