PSE 200 Easel
This floor model series can take various forms based on the needs of the conservator. More often than not they are built on the platform of the 300-series, which is the center post version. They can be built in the 100-series style which then allows the tilt feature. The vertical travel is often motorized and if you order one based on the CE 100 then the tilt feature can be motorized as well. They don't quite fall into the site-specific category because they are small enough and on wheels that they can be moved to different locations if desired. They are however, usually customized to some degree to allow for the particular use intended. At times a truly custom model is required, either to match a style easel that a studio already has or to meet some individual requirement.
PSE 200 Photographic Services Easel
Whitney Museum, New York
PSE 200 Specifications
Wood Choice: Maple, White Ash, & Mahogany are the favored selections as they look great with the ebonized finish.
Dimensions: Sizes are similar to that of the other floor models so the basic configuration is in the range of 30" x 30" x 90"
Functions: Please refer to either model CE-100 or CE-300 for typical details.
Mechanical: Motorized or hand cranked.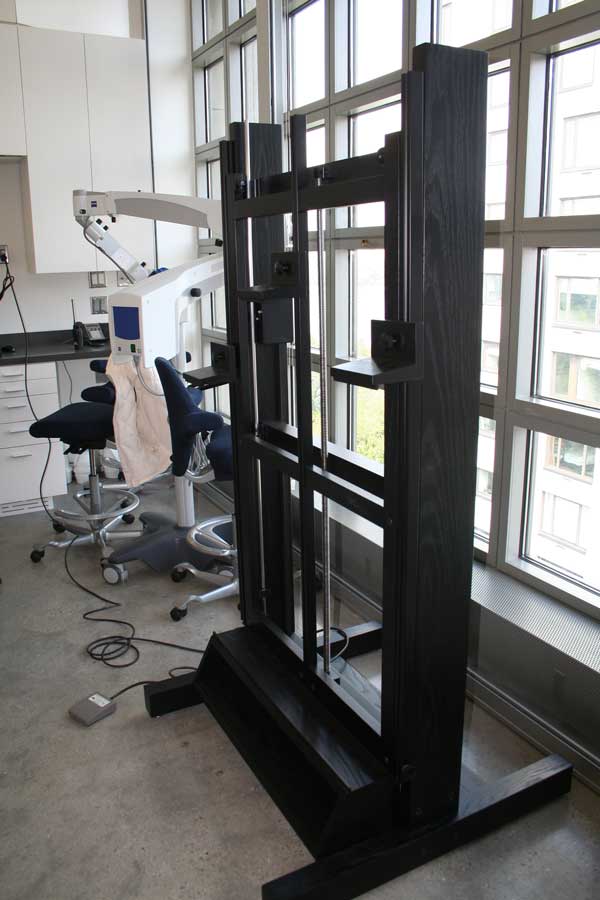 Solomon R. Guggenheim Museum
Custom Motorized Floor Model